Shares in Taiwan Semiconductor Mfg. Co. Ltd. (NYSE: TSM; TWSE: 2330) inclined in pre-market Friday on news that the world's third largest chipmaker will build a plant in Arizona.
The company said in a statement today that it has reached "mutual understanding and commitment to support from the U.S. federal government and the State of Arizona."
TSMC said it plans to spend about $12 billion on the project, expected to start construction next year and production in 2024. The facility will use 5-nanometer (nm) technology and roll off up to 20,000 semiconductor wafers per month, as well as create over 1,600 high-tech jobs directly, according to the announcement.
CNN called the new project "a big win" for the Trump administration, which has blacklisted a number of Asia tech giants on grounds of national security and intellectual property transfer.
(Source: Twitter)
U.S. officials are also working to limit foreign companies from selling U.S. components to the firms on the blacklist. If the new policy is approved, TSMC will have to obtain a license before making certain deals with China's Huawei Technologies, company No. 1 that is banned to do business with American firms.
At home, TSMC entered risk production of its 5nm chip in early April and is expected to begin mass production in the third quarter. Compared to its 10nm node, the new product was reported at a 1.6x compaction ratio. TSMC also reported speed improvement of 35% to 40%, or >65% power reduction over the 16 nm.
Earlier this week, Twitter's RetiredEngineer posted a translation of TSMC's prospective 5nm clients first published by Taiwan's Commercial Times newspaper. On that list, Apple (NYSE: APLE) and Huawei are the two clients for this year, while the rest, including Advanced Micro Devices (Nasdaq: AMD), Broadband (Nasdaq: AVGO), and Qualcomm (Nasdaq: QCOM)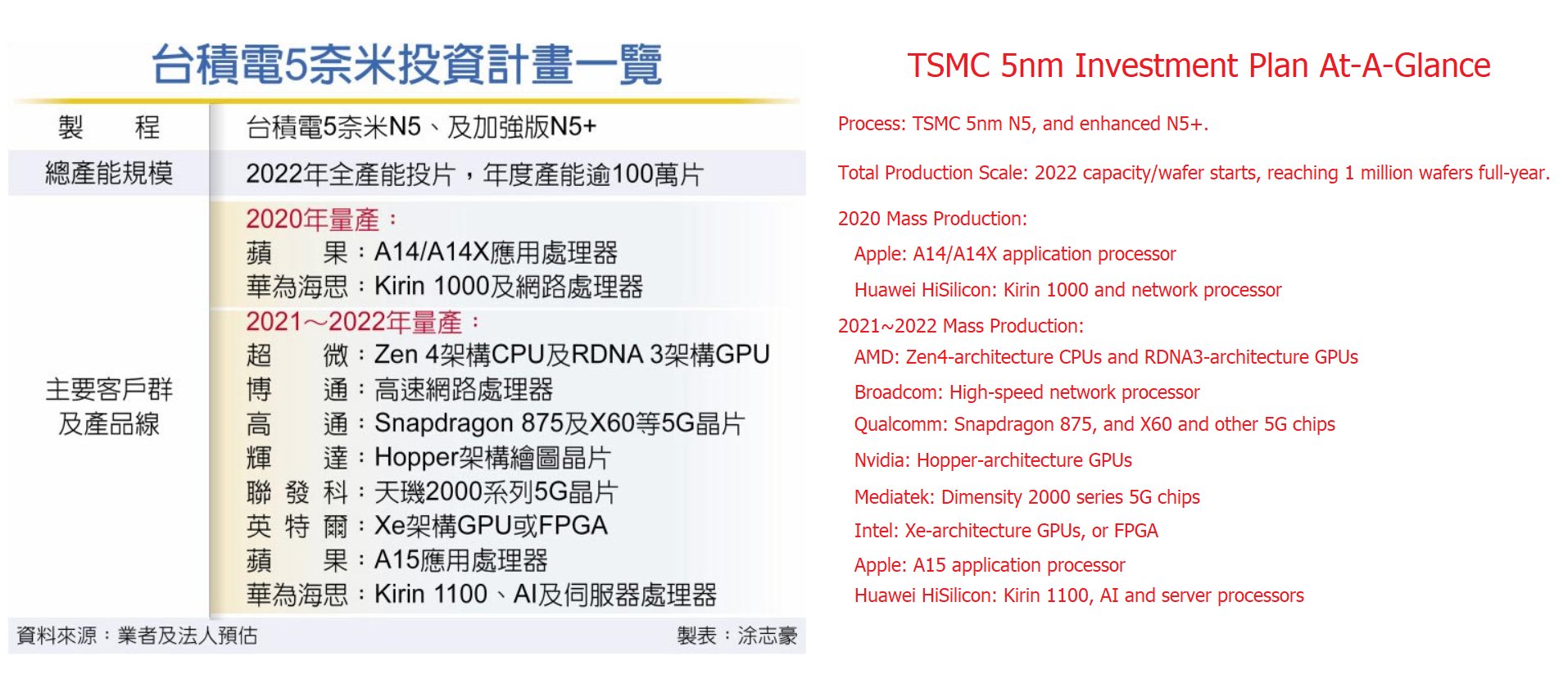 (Source: Twitter)
The Arizona facility will not be TSMC's first in the United States. The company also operates a factory in Washington and design centers in Austin and San Jose.
Shares in AMD, AVGO, QCOM, and APLE all rose higher in pre-market Friday. TSMC stock inched up 40 cents, to $52.50 per share.