With the elections looming and the U.S. President Donald Trump facing an impeachment inquiry, an enterprise involved in cross-border business can make no certain forecast.
Puxin Ltd. (NYSE: NEW), a Beijing-based consolidator of after-school education, has been moving forward with overseas expansion.
While the company had no plans to enter the U.S. tutoring market, it aims to provide study abroad programs to its current students in China, said Peng Wang, Puxin's chief financial officer, in a June 2019 interview.
The fate of Chinese students seeking U.S. education has been under question. This year, increasing numbers of student visa applications were rejected – with some major institutions seeing Chinese enrollments drop more than 20%, as The Chronicle of Higher Education reported on Friday.
The Trump administration imposed restrictions on certain student visas over the summer, specifically, in the fields of science, technology, engineering and mathematics (STEM). The move was implemented as a measure against espionage and intellectual property theft, as reported by various media.
At the time, Wang told CapitalWatch: "Let's wait – it's the year before election. Everything is possible. Officials like to say tough words, show their muscles just to get votes. We notice that every four years."
Meanwhile, Puxin is also looking to establish extension programs for its students in the United Kingdom and Australia.
"If for some reason the U.S. shuts the door for Chinese students – which I think is highly unlikely – we will transfer our students to commonwealth countries," Wang said.
He added that despite the political uncertainty, U.S. schools remain the top destination for Chinese students.
(Source: Puxin F-1A / Frost & Sullivan)
During the much-anticipated and hopeful first days of trade talks in Washington last week, Donald Trump said that the U.S. will not close the schools to Chinese students. Speaking at a press conference on Friday next to the delegation from China headed by Vice Premier Liu He, the U.S. President said the requirements for China will be the same as for any other country.
"We're going to be very good to Chinese students," Trump said. "We want all the people that want to come over from China. We have the greatest university system in the world, and we're going to keep it that way. And one of the reasons it's great is we have a lot of students from China."
Trump also said, "We're not going to make it tough. We're going to make it like for everybody else. And China is not going to be treated any differently."
U.S. Secretary of the Treasury Steven Mnuchin added, "We'll be making a decision on that and evaluating it."
The news sent the stock of Puxin 6% higher on Friday, to $8.19 per American depositary share.
By the end of the second quarter, Puxin reported it operated 398 learning centers with 54 acquired schools in 35 cities in China, with student enrollments of 725,000, up 39% up year-over-year. It was the third-largest provider of after-school learning, according to research by Frost & Sullivan it cited in its statement.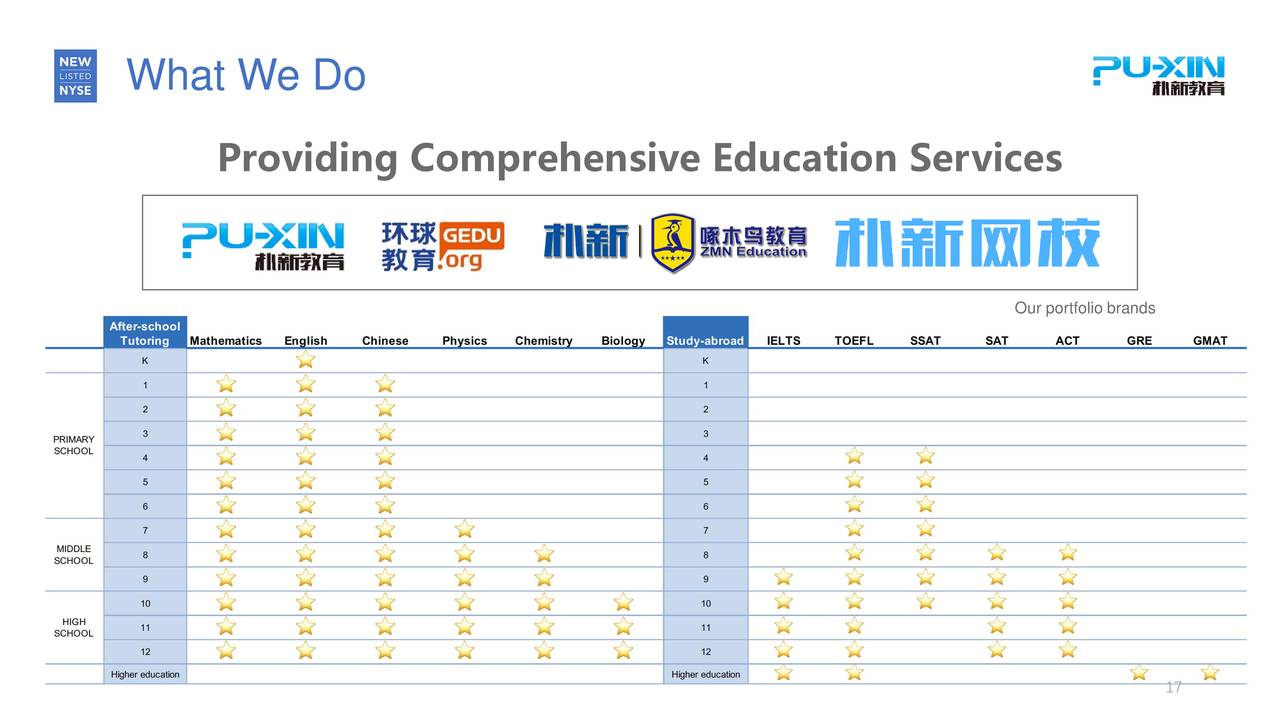 (Source: Puxin Q2 Slideshow)
Wang said Puxin had 10,000 students involved in study abroad programs with the United States. Currently, the company provides test preparation services and study abroad consulting. Among the tests are IELTS, TOEFL, SAT and GRE, as the table above shows.
"Our plan is to find an extended service in the States for the current 10,000 students who are going to study in America or maybe a mother boarding school which can accommodate our summer camps and our student or teacher exchange," Wang said.
Two of the schools Puxin acquired in 2017, Global Education and ZMN Education, provide study abroad programs. Global Education, Puxin's largest acquisition, is expected to breakeven this year, according to Wang.
Wang told CapitalWatch that Puxin expects to reach student enrollments of 2.4 million to 2.5 million for the full year, "mainly through organic growth and a small portion from newly acquired schools." The company previously reported 1.8 million students for the full last year and 1.3 million for 2017.
In an August statement, the company said it expected to generate revenue of between 937.5 million yuan and 971 million yuan in the third quarter, representing year-over-year growth of 40% to 45%.
The company has not set a date for the release of its third quarter report.