The National Statistics Bureau of China reported that of 2,051 Chinese enterprises verified between January and April this year 1,195 were found to falsify their financials by overstating their earnings or covering losses. In addition, of 2,942 local fixed asset investment projects investigated during the same period, 2775 fabricated or misrepresented their data.
The statistics circulated Chinese media on Wednesday after the Third Session of the Standing Committee of the 13th National People's Congress.
"Some cadres have a weak awareness of the rule of law," the vice chairman of the committee, Dongming Wang, said at the session. "The government warned these individuals multiple times against manipulating data and falsifying earnings, but they continued this practice."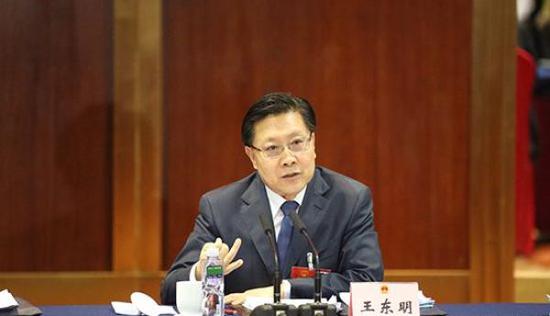 Dongming Wang, the vice chairman of the Standing Committee of the 13th National People's Congress speaks at the Third Session June 20. (Source: Caixin)

Wang also said that during the audits by statistical agencies, cases of false reporting, postponement, missing data, re-submitting, and reporting on behalf of other entities continue to take place. This happens, he said, because certain agencies fail to establish an accurate appraisal system, compete for promotion, and replace data to fulfill projected estimates, snowballing into years of fake accounting and having to continue falsifying reports.
Last year, local agencies at all levels investigated a total of 7,479 cases of statistical violations and executed 5,961 administrative and 162 disciplinary punishments.
Earlier this year, Tianjin's Binhai New District, where the Lingang Economic Zone is located, adjusted its 2016 regional GDP to 665.4 billion yuan ($102.8 billion), from previously reported 1,000.2 billion yuan, according to Caixin news agency.
At the session Wednesday, Wang suggested that the State Council should, in accordance with the provisions of the Statistics Law, step up efforts to formulate measures for the administration of civil statistical investigation activities.
Meanwhile, in the United States, of the companies investigated by the Securities and Exchange Commission last year, 754 underwent enforcement actions, a 13 percent decrease from 2016, according to its annual report. The types of actions are listed in the table below.
(Source: Division of Enforcement 2017 Annual Report)
Of the standalone enforcement cases, the majority had issues of accounting and auditing, as well as securities offerings, as illustrated in the table below.
(Source: Division of Enforcement 2017 Annual Report)
In the same year, the Commission suspended trading in the securities of 309 issuers, a 55 percent increase over 2016, "in order to combat potential market manipulation and microcap fraud threats to investors," the report said.